Notable Info
Bantamweight rankings expanded to Top 400.
Posted on August 20, 2017 by jcs
Featured Upcoming Bouts (Outside of UFC)
This weekend, former two-division Shooto world champion and current flyweight King of Pancrase Mamoru Yamaguchi returns to action at Pancrase 289. The 40-year-old fighter will defend his title against Senzo Ikeda, and the card will air live on UFC Fight Pass.
Yamaguchi, currently ranked #26 in the flyweight division, might not be the most recognizable name to average MMA fans. However, you can't tell the story of the MMA's flyweight division without including him. In 2000, he became the first Shooto featherweight (132 pounds) champion with a victory over Jin Akimoto. Three years later, he took the first Shooto bantamweight (123 pounds) championship after defeating Yasuhiro Urushitani. Urushitani went on to participate in the tournament to determine the first UFC flyweight champion.
The following chart shows the percentage of Yamaguchi's ranking points compared to the number-one ranked fighter in his division for each quarter of his career.
The higher the percentage, the closer to the number one ranking for Yamaguchi. This is a similar calculation used to determine the "Fight Matrix Most Lopsided Upset of the Year" award.
As you can see, Yamaguchi was not only a pioneer of the flyweight division but also a perennial contender until the UFC adopted the division in 2012. At his advanced age, it is impressive that he is still ranked near the flyweight top 25. His current run as King of Pancrase is a dignified culmination of a historic career, which, unfortunately, is rarely seen in the sport.
Richard Mann runs the data-driven combat sports blog StrikeScoreMMA.com You can follow him on Twitter @RichardAMann
Posted on August 17, 2017 by Richard Mann
Tags: Mamoru Yamaguchi, Pancrase
Historical Ranks, MMA Ranks | Comments (1)
Who is a harder puncher: Floyd Mayweather, Jr or Conor McGregor? Objectively, there's no good way to tell unless we measure their punching power output in a scientific setting – or have first-hand testimony from someone who has been punched by both. Everything else is pure speculation… and who's better to speculate on all things combat sports than MMA's favorite loud mouth Chael Sonnen? Watch his take on who punches harder:
Continue reading 'Video: Chael Sonnen on Mayweather vs McGregor'
Posted on August 16, 2017 by Fairfax
Boxing, Event Previews | Comments (0)
In June 2017 the boxing community was stunned when Anthony Joshua defeated Wladimir Klitschko in an epic 11th-round stoppage at Wembley stadium. For years the imperious Ukrainian had dominated the division with apparent ease, swatting aside all challengers to the throne.
Despite losing his crown in front of 90,000 at Wembley, Wladimir will always remain a legend of the sport. In a career boasting 369 rounds and 69 fights, the Ukrainian triumphed in 64 of those fights, winning 53 by knockout. In this article we look back at some of 'Dr Steelhammer's' most memorable fights.

Source: World Boxing Association
Klitschko's Top 4 Fights
Olympic Super-Heavyweight
August 1996, Atlanta
Opponent: Paea Wolfgramm
Wladimir announced himself on the world stage at the Olympic Games in 1996, defeating his Tongan opponent with consummate ease. Klitschko had overcome the gold medal favourite Aleksei Lezin previously and was a heavy favourite to win the final. He didn't disappoint and sealed the gold medal that told the world he had arrived.
Dr Steelhammer sealed all-round nice guy status 5 years ago when he sold his gold medal for $1 million, donating all the funds to the 'Klitschko Foundation' a charity designed to help underprivileged children in his native Ukraine.
Continue reading 'Farewell 'Dr Steelhammer''
Posted on August 15, 2017 by A. J. Riot
It's been a manic few days for Anthony Joshua in the press, and not all of it has been related to his own boxing career. The recent Twitter spat between fellow British pugilist Amir Khan and his now estranged wife named 'AJ' as a potential party to their very public breakup, while the retirement of former undisputed heavyweight world champion Wladimir Klitschko also brought Joshua to the forefront, given that their rematch was on the cards.
The Watford Olympian brushed off accusations from Khan and, with a return bout against the Ukrainian now definitely not happening, talk of Joshua's next tilt has been ramped up.
Continue reading 'Joshua Looking to take on Tough Tests En Route to Becoming Undisputed Champion'
Posted on August 15, 2017 by A. J. Riot
The lead-up to the upcoming boxing contest between Floyd Mayweather, Jr and two-division UFC champion Conor McGregor has been full of rumors and controversy. From accusations of racism stemming from Conor's antics during the press tour, to the rumored payday for the fighters, to the fiasco that was McGregor's short-lived training camp with Paul Malignaggi… Here, Conor sits down for a interview with MMA pundit Ariel Helwani, to discuss these issues and more.
Continue reading 'Video: Conor McGregor interview with Ariel Helwani'
Posted on August 14, 2017 by Fairfax
Boxing, Event Previews | Comments (0)
For many a boxing expert the upcoming fight between Floyd Mayweather Jr and Conor McGregor is a joke. McGregor has never had a professional boxing fight in his life and yet he is challenging arguably the greatest of all time in the sport. As of today the Notorious Irishman is 4/1 to win the bout for anyone interested in placing a bet on the Mayweather v McGregor fight.  This article looks at events that bookmakers believe are more and less likely to happen than a big upset in Las Vegas this month.
Alien existence to be proven in 2017 is    3/1
The bookmakers believe there is more chance we'll see alien existence proven before the end of 2017 than Conor McGregor winning the fight of the year! This just shows the mammoth task that stands in front of the UFC Lightweight champion, and whether it is possible remains to be seen. McGregor has some guts going into the ring with arguably the greatest pound-for-pound boxer of all time with no professional boxing experience under his own belt.  It will take an out of this world performance from McGregor to walk out victorious.

Source: http://nypost.com/2017/04/25/aliens-may-have-existed-in-our-solar-system-long-before-us/
Continue reading 'What's More and Less Likely to Happen Than McGregor Beating Mayweather?'
Posted on August 14, 2017 by A. J. Riot
Boxing, Event Previews | Comments (0)
Posted on August 13, 2017 by jcs
On August 26, at the T-Mobile Arena in Las Vegas, Nevada, retired undefeated boxer Floyd Mayweather will be opening the lion's den to simultaneous two-weight UFC champion Conor McGregor for a licensed boxing match. It comes as no surprise that Mayweather is heavily favored to win, and yet McGregor has made some rather lavish promises. During the international promotional tour for the fight, Conor McGregor claimed that he will knock out Floyd Mayweather in the fourth round, as reported by the Evening Standard. So, let's examine the actual likelihood of the Irish mixed martial arts star living up to this claim.
Knockout very unlikely, let alone in the fourth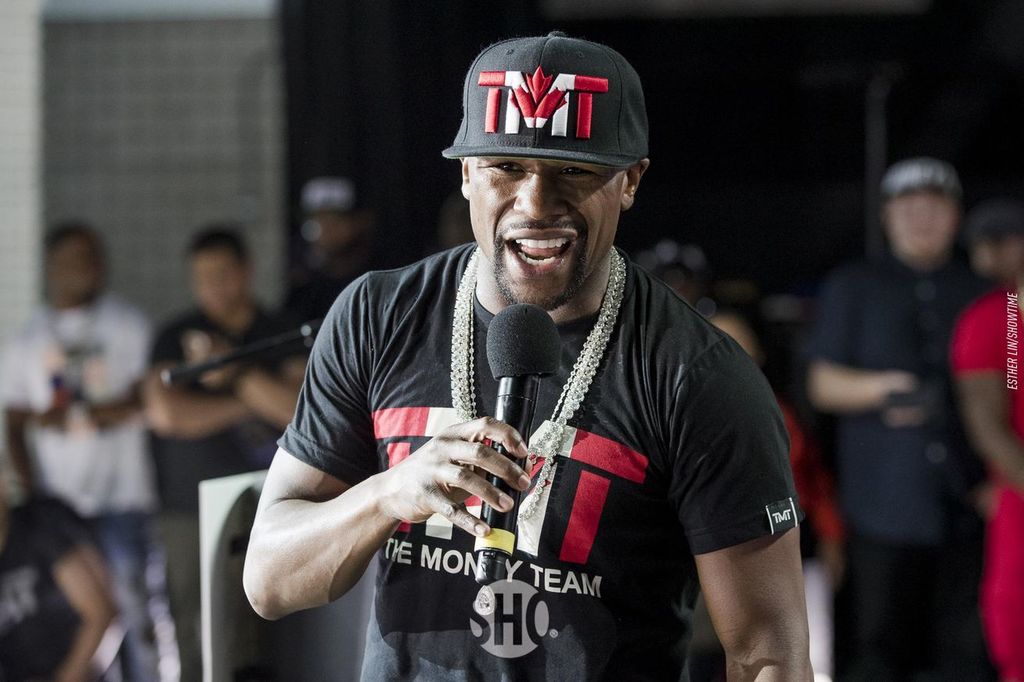 When it comes to the pure discipline of boxing, there is very little that the fighters can do to vary their game, thus what can be expected from the opposition can only stretch so far. Conor McGregor is coming from mixed martial arts, where almost anything goes, so fighters need to both utilize the available disciplines as well as be aware of those that could be used to defeat them. Floyd Mayweather has forged his 49-0 record on avoiding all that can be thrown at him in the boxing ring, so it seems unlikely that McGregor, who has never engaged in a professional boxing match, would be able to produce anything that could catch out the American.
The odds are most certainly stacked against McGregor for him just to get a knockout, regardless of what round. A lot of it is founded on Mayweather deemed to have been knocked down once in his 49-fight career, which was in 2001 against Carlos Hernandez, per Metro. In fact, with McGregor to knock out Mayweather at 8/1 as of August 2, things deemed more likely to happen by a Betway Insider study include: another planet like Earth being in existence; your job being replaced by a robot; or that we actually live in a simulation. So, as you can see, the odds are most certainly stacked against the Irishman to achieve a knockout. But should they be?
Continue reading 'Can Conor McGregor Really Knock Out Floyd Mayweather?'
Posted on August 8, 2017 by A. J. Riot
Boxing, Event Previews | Comments (0)
Notable Info
Exemption added in semi-annual community adjustment for high performers with success in the period in fight(s) completely disconnected from the local population.
Posted on August 6, 2017 by jcs